Canadians can enjoy their flower gardens for much longer than they think, and the colours should be able to last from spring until the first frost. Even in a climate like London's, we shouldn't be so quick to give up on our flowers. A gorgeous garden can last even into November! 
It all depends on the types of flowers you include in your garden. Before planting for the fall-time bloom, gardeners should be sure that their flowers are appropriate for their region.
Luckily, we have quite a few options!
What Flowers Bloom In October And November?
While London winters are often brutally cold, the fall is still an excellent time to enjoy certain flowers. Some of the most popular October and November blooms include: 
Aster:

A common wildflower in southern Ontario, the many types of aster flower can blossom in the fall.

Autumn Crocus: One of the most popular fall-time flowers, the autumn crocus is the ideal flower for the end of the growing season. The colour of the blossom is a lavender-pink, and it needs a well-drained spot with a lot of sunshine.
Common Zinnia:

Common zinnias are long-lasting flowers, with very bright colours and rich textures. While they thrive in the summer, the colours are vibrant in September and October, too. 

Goldenrod:

Don't believe what you've heard about goldenrod causing hayfever allergies! These yellow flowers grow beautifully in autumn, but they can get out of control. Try the Zigzag and Gray varietals for more manageable blooms. 

Marigolds:

The white, yellow, red or orange blooms of marigolds can stick around until frost. When planning your garden, remember that marigolds love full sun.
Before planting any of these, check the seed packaging for the timing of the blooms. Only choose plants that grow and thrive in your Plant Hardiness Zone. 
The Plant Hardiness Zone Is Important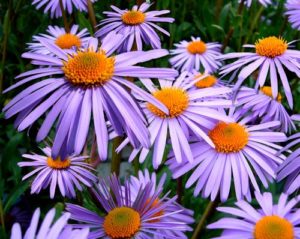 The world is separated into many different Plant Hardiness Zones, also known as Gardening Zones, Growing Zones, and Plant Zones. These regions are the different climates that support specific plants, flowers and trees. The zones are defined by the minimum range of temperatures in which a plant or tree can survive. 
Please follow and like us: