Your lawn is the first impression you make in your neighbourhood! We often see lawns go unkempt and abandoned over the course of our property maintenance duties but sometimes too much love can have a negative effect. Read on to learn about 4 ways you could be destroying your lawn during regular lawn chores and maintenance.
1) Improper Watering
Do you know how much water your lawn needs per week? Most lawns need 1 to 1.5 inches of water per week to stay healthy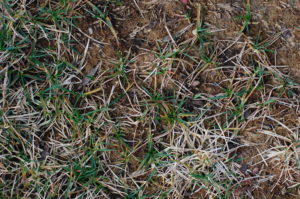 and green. Rainfall can change this factor but it does matter on the soil, grass type, climate and many more. Soil with higher clay content can cause puddling and would need shorter watering cycles. Sandy soil, on the other hand, is the opposite! You'll want to keep an average watering cycle.  Grass in the shade does not need as much water as in the sun. You can get timed sprinkling systems for a perfect water for your lawn or do it yourself!
2) Mowing The Lawn At The Wrong Time
Grass should be trimmed to 2½ to 3 inches. No more than a third of the grass blade should be removed at one time. Cutting your grass at the wrong time can cause stress to the grass blade which can result in disease and eventually death. Mowing wet grass will give your lawn a un-even look usually.
3) Environmental Factors/Issues
Environmental factors can include regional climate, construction, seasons and temperatures. Your lawn could be degrading because of these factors. Insects can rise during mild temperatures and over-fertilized lawns can cause increased weeds. Not being aware of these environmental factors may cause your lawn to degrade.
4) The Health Of Your Soil
The soil is one of the most important parts of all plants! Having good soil is key to having a healthy lawn.  Soil must have nutrients and proper fertilizers. Soil will ideally be made up of a balance of sand, silt and clay, which is called loam soil. A test can be done to determine the health of your soil so you can treat it with the best nutrients it needs!
Please follow and like us: