Now that the first signs of spring are starting to show, lawn care and property maintenance are weighing on most people's minds. Getting out there is easier said than done. Maybe you feel like your not even in shape to deal with lawn care after a long winter hibernation.
That's why following these easy lawn care tips and maintenance chores at the start of the season can help make your life a whole lot easier. And if not, you can always call Green Ninja and we'll be right over to whip your lawn back into shape!

Avoid Spring Lawn Care Disasters
Lawn Care can be a year-round activity and most people simply don't consider the light preventative work they could be doing in any season. Now that we can see the grass peeking through the snow, nobody wants to see a damaged lawn suddenly revealed by the warm weather. Here are some examples of late winter and early spring lawn care prep that can make your life a whole lot easier.
During the winter it's important you keep most of the heavy foot traffic to the footpaths and walkways on your property. The rhythm of melting and freezing can cause lots of damage to your lawn on its own without a season of boots across it as well. This brings us to the next point: salting. Don't be too heavy with laneway salting and make an effort to keep it restricted to the concrete.
Finally, as you prepare for the last of the snow to melt off your lawn, start to clear debris and inspect the overall condition of your lawn. Make note of some problem areas and call us if you want to discuss how to deal with some serious damage that's been uncovered.
It's Time For Landscapers To Spring Into Action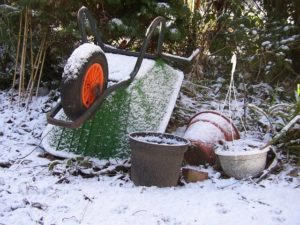 As we've seen in our other posts every season can be a busy time for landscaping, however, spring is certainly one of the busiest. Spring is the season when your lawn is really in need of TLC as temperatures begin to quickly rise and grass and topsoil constitution rapidly changes. What your lawn wants only a few weeks after the final melt is water, fertilizer and care.
Early spring is also a good time to start thinking about purchasing and installing turf because the hazard of frost is a lot lower and the soil soon becomes extremely workable. It's also the time where seed planting is the most successful as rain and soil temperatures speed up the germination process. What is known to landscapers as a spring feed, is crucial for keeping the lawn looking green throughout the summer.
Picking the right product for spring feed can be tough as there are many on the market. All you really need to consider is the main ingredient which should be listed as nitrogen and the overall budget you've set for lawn care this spring. After the feed, make sure you have cleared the area of all remaining winter debris and have your landscape and watering tools at the ready.
Start cutting the grass once a week, making sure that your mower is raised to its highest setting for the initial spring cuts. After those initial cuts, you can start a process called scarifying the lawn, which is simply a light treatment using a rake or a machine scarifier to remove dead grass, sometimes called thatch.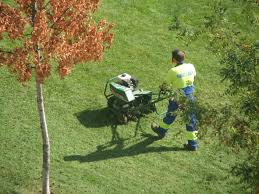 Finally, as it gets later into spring you can prepare yourself for some light aeration. This can be achieved either by using a pitchfork or a hardware store DIY aerator. That said, it's much easier and more cost effective to get us to do your aeration as we've got the professional toolkit and years of experience to do this very quickly. Professional aeration is key to circulating air, loosening your soil and fuelling the grassroots for a huge growth boost in summer.
The moral of the story about late winter and early spring lawn care preparation is to be proactive and take notes on the state of your property. It helps you out in the long run to know and care about the state of your lawn and be more in tune with seasonal effects. You don't have to be a ninja to be an excellent landscaper but it certainly helps if you've spent years in the dojo and are always one with nature.
Please follow and like us: